Renovation (also called remodeling) is the process of improving a broken, damaged, or outdated structure. Whilst the terms are used interchangeably, they do have slightly different meanings which can be useful to know to allow you to more accurately communicate your thoughts with the industry professionals.
Renovation means "restore to a good state of repair." It's generally the term used when restoring a dilapidated building or a poorly maintained house. Renovations can often be subtle, improving on the existing building, or they can be drastic, more like a remodel. Construction involving renovation often refers to "restoring" or "repairing" an existing structure – replacing the old with the new.
Remodel means "to change the structure or form of something." Remodels generally work to change the appearance, structure or function of a room. A remodel works to improve upon or transform the existing design and layout of a room. Remodeling often refers to "changing" or "transforming" a building or home.
So if you want to repair or update your kitchen, then you're looking to renovate it. If you want to change the layout/appearance/function of your kitchen, then you're looking to remodel it.
What contributes to the cost of a renovation?
Does the property need extra bedrooms/bathrooms?
Typically we always say that for a rear extension, budget £50,000 because you've got potential kitchens, opening up of walls to the original house, etc. Two storey extension could be around £80,000 because obviously on the second floor, you don't have any foundations
Is the kitchen size adequate? (Smaller kitchens are common in older properties and are the number one 'room for improvement')
A new kitchen can be anywhere from £7,000 to £50,000 but the typical kind of cost or price, people pay is about £7,000 to £15,000. The biggest price difference is due to the appliances – the better the appliances, the higher the cost.
Do the rooms flow? Do you need to knock down walls and restructure the room layout?
Knocking down an interior wall costs from £250 – £400 but many factors can increase the cost, including whether the walls:
Are load-bearing walls (walls which support the home)

Contain mechanicals (plumbing, cooling or heating ducts or electrical wiring)

Are textured walls or ceilings (most experts recommend retexturing the entire area to match the old and new areas, which costs more than simpler finishing)

Contain lead (older homes may have lead paint or lath-and-plaster walls, which require longer, more intricate removals that have higher costs)
Is there usable roof space?
Budget about £50,000 for a loft extension. You might have a bathroom or an en-suite in there or you could have a complicated roof so it could be £50-£60,000 but you obviously avoid foundation costs and any costs associated in the ground.
Is an extension required?
The main governing factor on the cost of an extension is square footage or square meterage – how big it is. So, the bigger it is, the more it's going to cost. Typically if you worked out a square meter at £1500, that's a good base price.
Are there signs of structural movement?
The building will have to be stabilised, possibly by underpinning or soil grouting, and then repaired. The work involved can be extensive and you should not proceed without specialist advice and detailed estimates for remedial work
Are the walls in good condition?
Look for signs of wear on brick or stonework. Inspect the mortar joints to see whether or not they are worn and need repointing. Minor cracks in cement render are rarely more than cosmetic and are inexpensive to fill and repair. If cracks are more severe, however, check that they are not a sign of structural movement by inspecting the blocks or bricks beneath.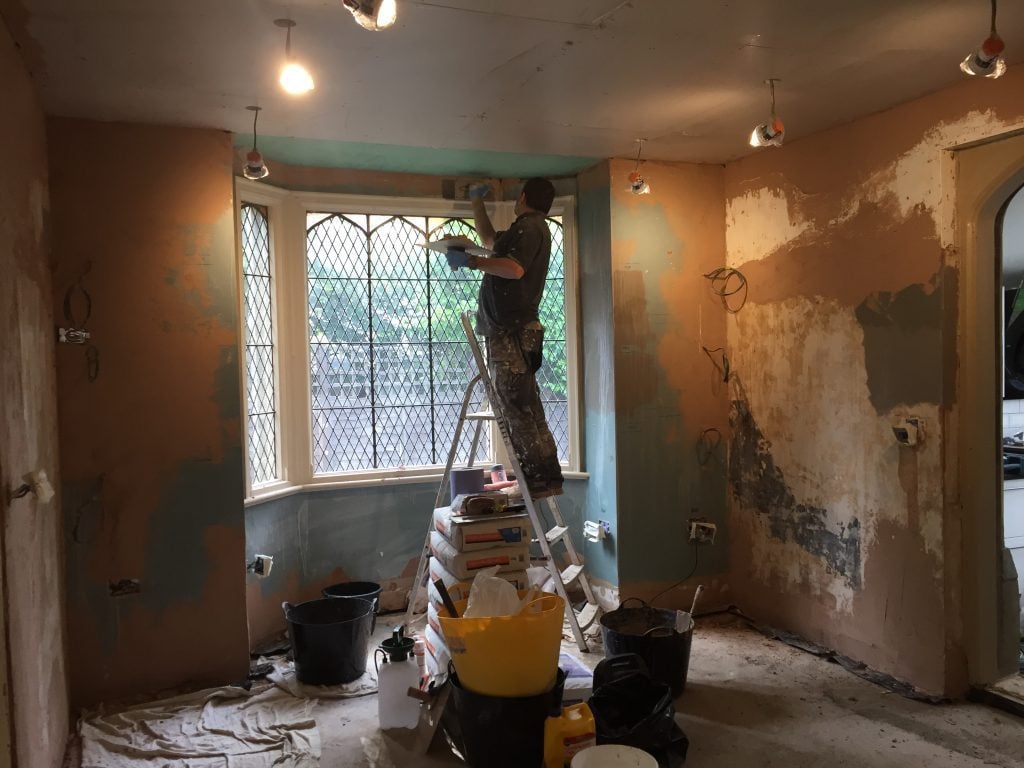 Are there signs of damp?
In an old brick building a damp proof course can be created by injecting silicone into the bricks both inside and outside the building. For the average three bedroom terraced house this is likely to cost around £300-£400 plus the cost of redecorating (total cost £1,200-£1,800) as it usually involves replacing the damaged plaster from all ground floor walls up to a height above the level of the rising damp.
Are the Flues Working and Intact?
Repairing a chimney flue by relining it will cost from £600-£800.
Will the property need rewiring?
Rewiring a typical three bedroom terraced house (90-100m²) will cost from £2,500-£3,000, including removing the old wiring, lifting and replacing the floorboards, and installing a new consumer unit, but excluding making good the plaster and decoration. The job should take a pair of electricians five to seven days.
Does the plumbing need replacing?
Plumbers may charge by the job or by the hour. Average costs range from £35 to £120/hour, although calling a plumber for an emergency project typically costs more.
Does the heating system need replacing?
Replacing a gas-fired radiator central heating system will cost around £2,000-£2,500. A modern condensing boiler will be more energy efficient than an old model — replacing just the boiler will cost £900-£1,400.
Adding a wet radiator, gas central heating system to a three bedroom terrace will cost around £2,500-£5,000 and will take a plumber eight to ten days.
Does the roof need replacing?
Replacing or refixing a few roof tiles or slates, and repointing the verges, is not a major task and will cost £100-£200. If the damage is extensive, then it may be cheaper to remove the old roof covering and lay a new roof. The advantage of this is that the roof can be felted and battened to make it weathertight. Replacing the entire roof over a typical three bedroom terraced house will cost from £2,000-£3,000 including scaffold hire.
Do windows and doors need replacing?
Replacing external windows and doors will cost at least £2,500-£3,000 for a typical three bedroom semi-detached house. Check the condition of the windows; if the paintwork is intact and the timber sound, you can restore original timber windows. It is worth doing so and this is likely to be more cost-effective than replacement.
PVCu double glazed windows will cost from £100-£200 each and the same again for fitting. A new door will cost £250-£2000 plus £100-£200 for installation.
Calculating Your Renovation Cost
Unless you have a lot of information and detail about what your renovation involves/requires, it can be quite difficult to calculate a cost – there are so many contributing factors, which differ from project to project. Essentially, you need to create a bit of a scheme before you can start putting some numbers to it otherwise, there'll be too many questions to answer.
To calculate the cost of your renovation, Yoop Architects take a measured survey of your property, which captures all the information. Then we draw it all up in 3D and create sketches to show sometimes five or six options if it's not entirely clear how you want to achieve your brief.
A lot of the times there are different ways of achieving your desired result and the more you work with the building, the cheaper, easier and faster your build will be. Once you've got a favorite scheme or a couple of favorite schemes, we have a phase called 'Meet the Builders'. That's when we can introduce you to a couple of builders, they visit the property and then give you a ballpark figure. They'll also go through any twists and turns of what might be in the grounds or any concerns that they have.
Thinking of your dream home improvement or how to start your project? 
Need your planning questions answered? Talk to an expert today.
Book a FREE 20 Minute Call with one of our home improvement Architects.
Connect with Yoop Architects...